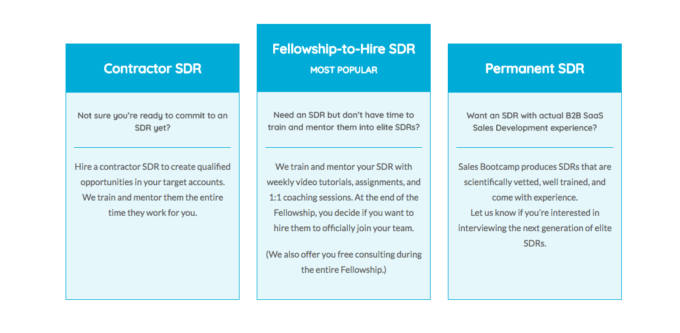 Behind on Your Hiring Goals? Here's How Sales Bootcamp Can Help
At Sales Bootcamp, we are obsessed with creating a community and network with the best SDRs across the country. Our Director of Sales Nick White, wrote a great piece on how we work with hiring companies to introduce our students directly to their teams.  SDRs and account executives are key for bringing in revenue to any company, and we want to help offer companies ways of working with our students.
Sales Bootcamp can help with all your SDR hiring, and you can rest assured we have worked closely with our students . We offer specialized sales fellowships to train SDRs and how Sales Bootcamp can help you grow your team today:
Hire a Contractor SDR: If you are not sure whether you are ready to commit to a full-time SDR yet, you can hire a contractor SDR instead. Sales Bootcamp trains and mentors the SDR the entire time they work for you. Our team will ensure the contractor SDR is the perfect fit for your organization and meets all of your requirements.
Fellowship-to-Hire SDR: Our fellowship program (most popular) is designed to train and mentor candidates to become elite SDRs. The SDRs are trained using assignments, weekly video tutorials and 1:1 coaching sessions. Once the fellowship is complete, you can decide whether you want to officially hire the SDR to join your team. The fellowship program ensures you only have the most skilled candidates on board that are also a good fit for your team. Not to mention, you can closely track their performance before you decide whether they should be a part of your team.
Permanent SDR: Are you adamant about hiring an SDR with previous sales experience? Are you seeking an SDR with B2B experience or maybe a career switcher? Sales Bootcamp produces some of the best SDRs in the industry. These professionals are well trained and have the right amount of experience to be a part of your team.
Our experienced hiring team will help you connect with all of our students, resulting in smooth SDR hiring and saving you time. This will help you save a lot of energy and effort since you do not have to worry about going through hundreds of resumes and interviewing a large number of candidates. Sales Bootcamp will connect you to the right people, allowing you to choose from a pool of qualified candidates and build your team with great people faster.
For more information, fill out our contact form if you want to see some of our best resumes today!